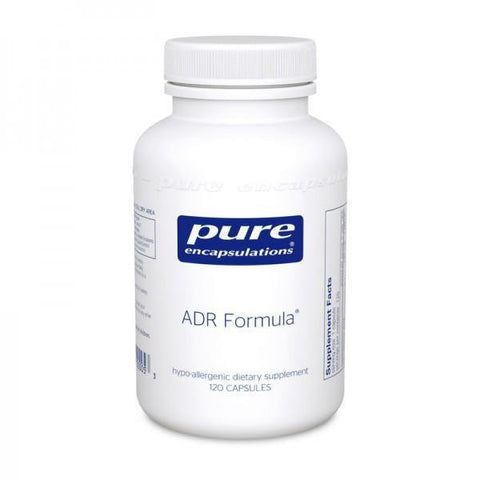 ADR Formula (60 or 120 caps) Free Shipping
Free shipping when total order exceeds $100.
This formula combines the whole adrenal and adrenal cortex with a mixture of herbs that nutritionally supports the adrenal glands. Panax ginseng and Eleutherococcus senticosus, or eleuthero, are used primarily as adaptogens, supporting overall health by a wide range of physical, chemical, and biochemical factors. The ingredients in this formula support the production of certain adrenal hormones and maintain a healthy immune response.
ADR Formula
®
 offers broad-spectrum nutritional support to the functioning of the adrenal glands.
ADR Formula®

Supplemental Facts

each vegetable capsule contains:
pantothenic acid (as calcium pantothenate) (B

5

)

100 mg.

Asian ginseng (panax ginseng) extract (root)

200 mg.

(standardized to contain 5% total ginsenosides)

eleuthero (eleutherococcus senticosus) extract (root)

100 mg.

(standardized to contain 0.8% eleutherosides)

licorice (glycyrrhiza glabra) extract (root)

100 mg.

(standardized to contain 20% glycyrrhizic acid)

whole adrenal (bovine)

150 mg.

adrenal cortex (bovine)

75 mg.

ascorbyl palmitate (fat-soluble vitamin C)

15 mg.

other ingredients: vegetarian capsule (cellulose, water)
Not to be taken by pregnant or lactating women. Consult a health professional before taking this or any other product.
1 capsule daily, between meals, or as directed by a health professional.