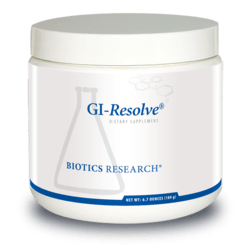 GI Resolve
GI-Resolve® combines effective clinical levels of well-researched nutrients and botanicals specifically formulated to support optimal gastrointestinal health and function without
any added flavors, colors, sweeteners, gums or common allergens.
GI-Resolve®, a clean and great-tasting powder, contains ingredients carefully sourced for premium quality, including L-Glutamine, Zinc Carnosine, N-Acetyl Glucosamine, MSM, Aloe vera Leaf, Okra and DGL.
• Promotes optimal function of the GI lining
• Rejuvenates health of intestinal mucosa
• Supports healthy inflammatory response
• Builds immune support
• No added flavors, colors, sweeteners or gums
• Does not contain shellfish
Dosage: 
Two (2) teaspoons each day as a dietary supplement or as otherwise directed by a healthcare professional.
Active Ingredients: 
Zinc (from 50mg of PepZinGI® zinc carnosine)†, L-Glutamine, N-Acetyl D-Glucosamine, MSM (methylsulfonylmethane), Licorice (Glycyrrhiza glabra) (root) (extract) (deglycyrrhized), Okra (Abelmoschus esculentus) (fruit), Aloe Vera (Aloe barbadensis) (aerial part) (200:1 extract). † PepZinGI® is a registered trademark of Hamari Chemicals USA, Inc.