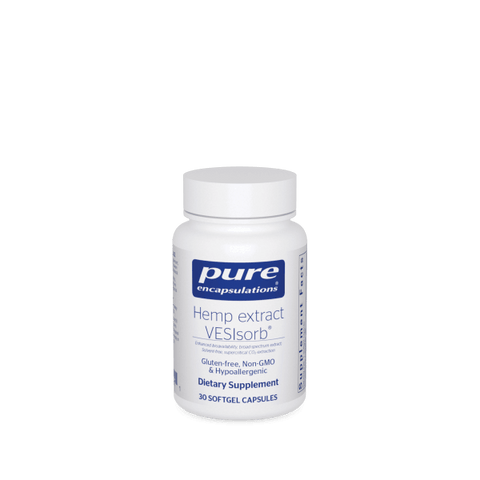 Hemp Extract Vesisorb (30 soft gel caps) Free Shipping
Free ground shipping when the total order exceeds $100
Hemp, also known as Cannabis sativa, is an annual herb of the family Cannabaceae with a long history of use. This extract is derived from 100% US-sourced, field-grown agricultural hemp and is extracted using solvent-free, clean CO2 technology, an environmentally friendly and efficient method. Each batch is THC-free and tested to ensure non-detectable levels even less than allowable limits. This product also features a patented VESIsorb® lipid-based delivery system, which increases the bioavailability of a bioactive that is fat-soluble or has poor water solubility to enhance absorption and increase plasma levels.
Supplement Facts
Serving Size 1 softgel capsule • Servings Per Container 30
(standardized to contain 35 mg of phytocannabinoids and terpenes including beta-caryophyllene)
Other ingredients: VESIsorb® collodial delivery system (medium chain triglycerides, vitamin E (tocophersolan), mono and diglycerides, fatty acids, natural flavor), gelatin softgel (gelatin, glycerin, carob, water)
1 softgel capsule daily, with or between meals, or as directed by a health professional.