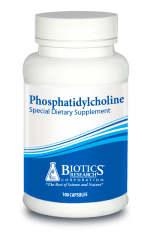 Phosphatidylcholine 100 caps
Phosphatidylcholine supplies a supplemental source of this important phospholipid. Phosphatidylcholine is a major constituent of cell membranes, and is important for normal cellular membrane function and repair.
Dosage: 
One (1) softgel capsule one (1) to three (3) times each day as a dietary supplement or as otherwise directed by a healthcare professional. 
Active Ingredients: 
Each softgel capsule contains 1,200 mg of lecithin providing 420mg of phosphatidylcholine. Phosphatidylcholine (from soy lecithin). Calories - 10, calories from fat - 10, Total Fat - 1.2g, Saturated Fat - 0.17g, Polyunsaturated Fat - 0.54g, Monounsaturated Fat - 0.11g, Cholesterol - 0 mg, Sodium - 0g, Protein - 0g. 
Other Ingredients: 
Softgel capsule shell (gelatin, water, glycerin and ethanol). Other phospholipids: Phosphatidylserine, phosphatidylethanolamine and phosphatidylinositol. This product is gluten and dairy free. 
Product Warnings: 
KEEP OUT OF REACH OF CHILDREN.