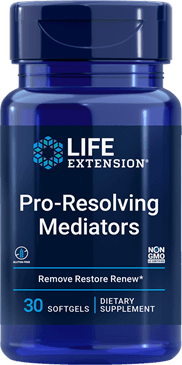 Pro-Resolving Mediators
What Are Pro-Resolving Mediators?
Feel like your old self again. Pro-Resolving Mediators (PRMs), also known as specialized pro-resolving mediators (SPMs) promote a healthy post-inflammatory response—one that supports whole body health at the cellular level. These novel compounds foster an environment where new, healthy tissue can flourish, encourage your system to "clean up" cellular debris and help to maintain the vital balance between cytokine compounds.
Encouraging your body's post-inflammatory response goes a long way toward maintaining whole-body health, starting at the cellular level.
Pro-Resolving Mediators Benefits
Encourages healthy tissue rejuvenation to help you feel like your old self again
Promotes the pathways that clear cellular debris, which allows healthy cells to flourish
Helps maintain the balance between cytokine compounds that your body needs to function harmoniously
Is the perfect complement to Curcumin Elite™, which promotes a healthy inflammatory response
An Incredible Nutrient Derived From Marine Oil
The body creates specialized pro-resolving mediators (PRMs) from fatty acids such as EPA and DHA omega-3s. But fish oil is not completely converted to PRMs, so you may not get the optimal health benefit from taking a fish oil alone. In fact, research indicates that PRMs and PRM precursors (such as 17-HDHA and 18-HEPE in this formula) are actually better for promoting a healthy post-inflammatory response.
A whole-body health regimen should include nutrients that help inhibit inflammation to support whole-body health, as well as those that help maintain the body's healthy post-inflammatory response.1 The PRM compounds in this innovative supplement do just that: promote a healthy post-inflammatory response.
More
These statements have not been evaluated by the Food and Drug Administration.
These products are not intended to diagnose, treat, cure, or prevent any disease.
Serving Size 1 softgels

Amount Per Serving

Calories

5

Total Fat

0.5 g

Cholesterol

<5 mg

Marine Lipid Concentrate

500 mg

[providing 300 mcg of Pro-Resolving Mediators including 18-hydroxyeicosapentaenoic acid (18-HEPE), 17-hydroxydocosahexaenoic acid (17-HDHA), & 14-hydroxydocosahexaenoic acid (14-HDHA)]

 

Other ingredients: highly refined marine oil concentrate, (squid, anchovy, sardine, herring, mackerel), gelatin, olive oil, glycerin, purified water, lemon flavor, mixed tocopherols.
Non-GMO
Dosage and Use
Take one (1) softgel daily, or as recommended by a healthcare practitioner.
Store tightly closed in a cool, dry place.
Warnings
KEEP OUT OF REACH OF CHILDREN
DO NOT EXCEED RECOMMENDED DOSE
Do not purchase if outer seal is broken or damaged.
When using nutritional supplements, please consult with your physician if you are undergoing treatment for a medical condition or if you are pregnant or lactating.
To report a serious adverse event or obtain product information, contact 1-866-280-2852.