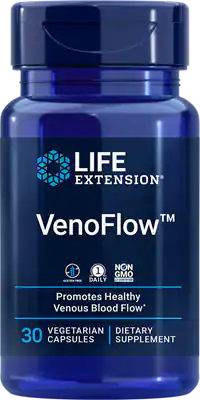 VenoFlow 30 caps
What Is VenoFlow?
Blood flow, or circulation, is primarily powered by your heart, but it's also aided by physical activity. The circulatory health effects of a sedentary lifestyle should not be ignored, especially for those who exercise infrequently and even for healthy people who sit for long periods at work. That's why we created VenoFlow™.
Healthy blood flow in your arms and legs is important, especially for long-distance travelers or office workers.
VenoFlow™ Benefits
Powerful dual-action formula for vascular health
Encourages healthy circulation & blood flow
Promotes the body's natural clotting process
Helps maintain already healthy blood pressure
What is Pycnogenol®?
French maritime pine bark extract helps inhibit inflammatory factors to promote circulatory and vascular health, fights oxidative stress and promotes longevity.
Why did we add nattokinase?
Nattokinase fermented soybean extract supports the natural clotting process, promotes healthy circulation and helps maintain already-healthy blood pressure levels.
Two Potent Extracts, One Proprietary Blend
The VenoFlow™ proprietary blend combines Pycnogenol® French maritime pine bark extract with nattokinase, an enzyme found in the Japanese food natto, which is made from fermented soybeans. Everyone knows you need healthy blood vessels, as well as a healthy heart. Life Extension® created VenoFlow™ to help you support the rest of your circulatory system.